Earlier this year, I went to a Zine Fest Houston workshop where we learned to make a one-page zine out of a single sheet of 8.5″ x 11″ paper. Since then, I've incorporated these tiny zines into my development process for all animation projects.
Zine-making requires more attention and organized thought than drawing in a sketchbook, but it's still looser and more exploratory than storyboarding. You have a limited drawing (or collaging) space, which forces you to choose mood over detail. And you only have 8 pages total to fill with artwork — a bitesize task. Even if you're not sure where you're headed, the sequential nature of a one-page zine — stemming from the physical need to turn a page to reveal more information — will encourage you to begin organizing your idea into some sort of visual progression, or narrative.
The folding works like so: [pdf].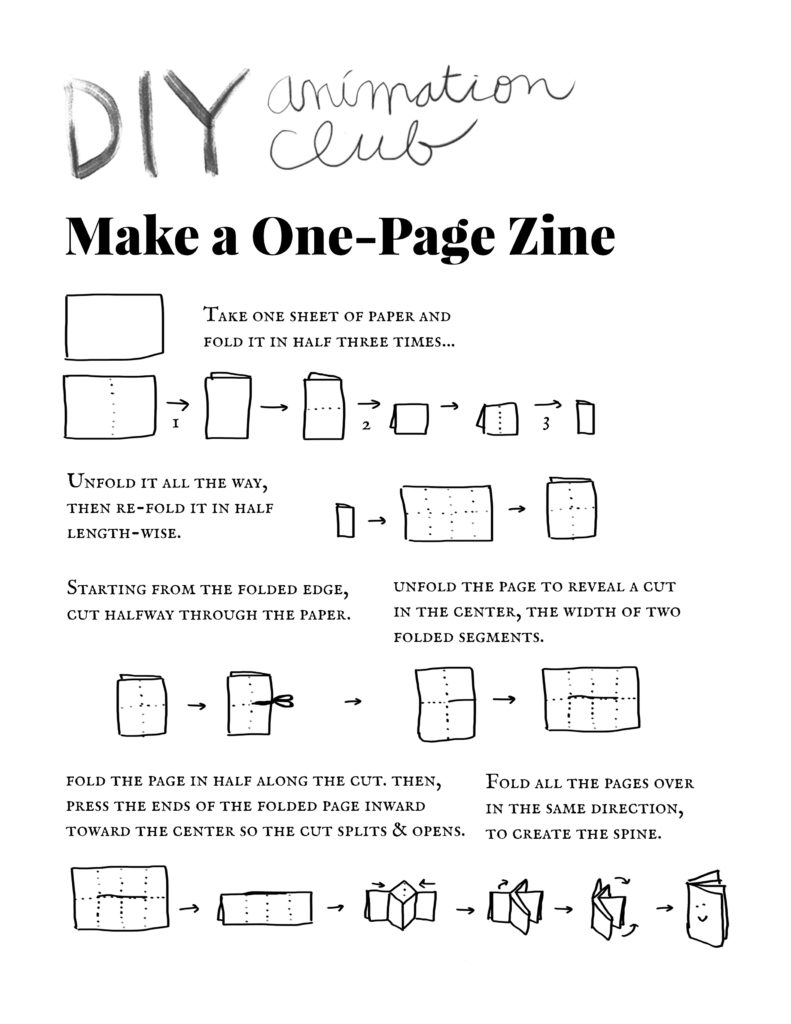 Once you've folded it together, flip through the pages and number them in pencil. Then, unfold the sheet and flatten it out to make your artwork. You can make 8 individual drawings or collages, or you may choose to make 2-page spreads across facing pages. You may even decide to do a single 8.5″ x 11″ drawing (or "poster") on the back of the unfolded sheet.
When I've made a one-page zine with a specific animation project (rather than publication) in mind, I set a timer for 30 minutes to add an additional layer of creative limitations; the artificial pressure encourages intensity. You may choose to spend more or less time on yours, but either way, make sure you give yourself a hard deadline for finishing. Doing this exercise as a timed challenge will short-circuit your usual thinking process, and may lead you to interesting visual ideas, solutions, or gags you wouldn't have come up with otherwise.
DIY Animation Club co-founder Dave Merson Hess taught and developed animation curriculum for Aurora Picture Show's youth workshops, 2014-2018. He also started Rush Process, a Gulf Coast-based festival celebrating animators who work with physical media, which ran from 2015 to 2018. Dave is currently an MFA candidate in Experimental Animation at Calarts.