Extracted Frames is a career-spanning, riso-printed art book from Cincinnati-based animation filmmaker/designer/illustrator Mark Neeley, available for pre-order from the design studio and small press, Cereal Box. The book compiles 120 pages of frames from Mark's extensive back catalogue of hand-drawn animated projects, including short films, music videos, and his lovely animated sequences for Aquarium Drunkard Picture Show.
How did Extracted Frames come about?
I had honestly never thought of a book about my own animation. But as a bibliophile, I love all sorts of vintage printed animation ephemera … collecting flipbooks, things like George Griffin's Frames. I basically taught myself to animate from DIY animation books when I was younger. Thinking about it now, another inspiration was probably "Sketches for Music", a massive book I picked up last year by Shintaro Sakamoto, one of my favorite musicians who also animates his own videos. Since music videos are a large part of my own work, I thought it was such a beautiful pure art book, just page after page of animation frames.
I'm really grateful that the publisher (Cereal Box Studio) wanted to make the book. They also do the Aquarium Drunkard zine, who I do visual and written work for (AD founder Justin Gage wrote the foreword of the book). At first I was skeptical of how the risograph printing method would translate to my work, which is all hand inked & painted. But their passion for the project and the results was really amazing, I don't think they had ever taken on a project like this. They would come over to my studio and take literally hundreds of pieces of animation paper: finished frames, sketches, storyboards, etc.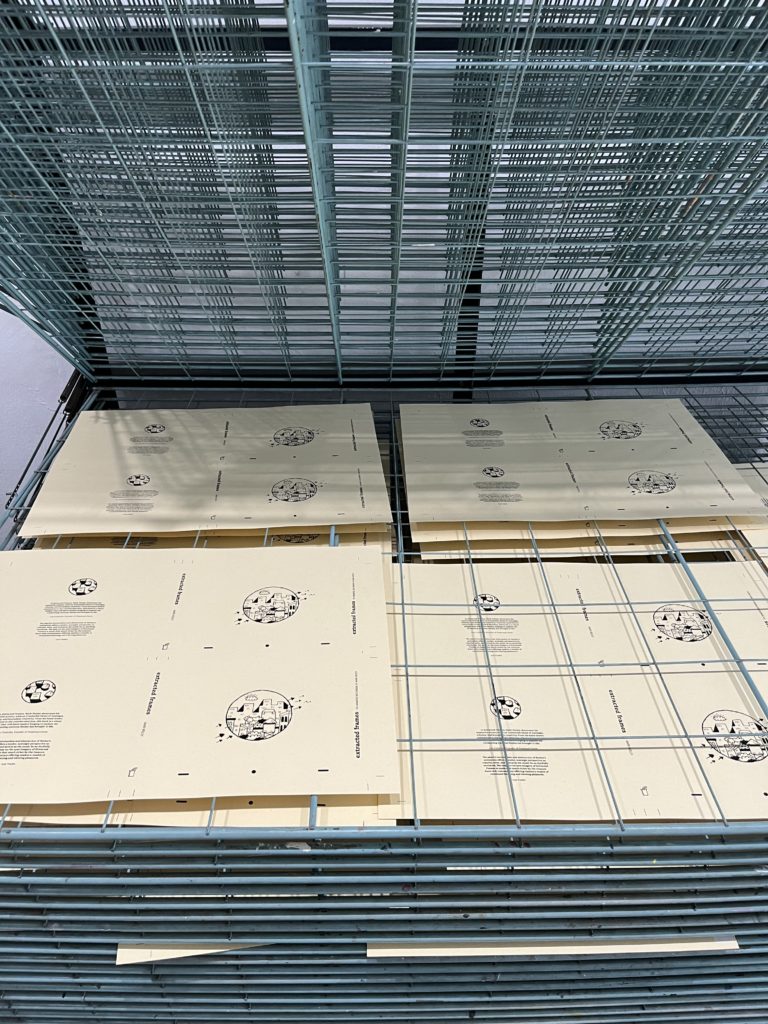 Did one particular film or project stand out as translating better in print than the others?
It's hard to choose, but maybe my short Fragments. It originally came out right before the pandemic but recently had a bit of a second life when it aired on PBS on their Reel 13 program. It's my most personal project, and I think seeing the different pieces and the use of watercolor and 35mm photos translated really well.
Cereal Box really loved the music video for Cactus Lee – it's a full western and the most linear music video I've done narrative-wise, so that one came out great in print. I'm proud of them all.
I'm curious how the artwork was sourced … as a paper animator, do you keep everything archived? 
I don't, this is something that the publisher and I sort of joked about. They talked about how they were more precious about the materials, while I was a bit more passive about everything. But it's not a self-deprecation sort of attitude, it's just that as you know, it's impossible to save everything when you're an analogue animator. Maybe if I had more space I would keep more. For Fragments I saved almost every frame, but other projects I typically keep a handful of final frames and maybe a few sketches and storyboards. With music videos, sometimes the artist will request some. There was just a wealth of it from all the different projects.
The ACME pegbar on the cover is a clever detail – your idea?
That was actually the publisher's idea, who designed the whole layout. Considering they weren't even familiar with traditional animation equipment until they ended up handling all the bond paper, it's pretty cool that they came up with that.
What is your basic animation set up like? It looks like there are some DIY techniques going on.
Yeah, the rostrum is a very old photography copy stand with basic lighting. It's sort of a pain because the base of the stand is very hefty and it makes it not very portable. I used to have a DIY adjustable lightbox that my father (a carpenter) built out of wood that we added an animation disc to. A couple years ago, I was fortunate to find an affordable pro lightbox by Lightfoot with the LED light. I will say, it has been a great machine. The worst part is probably the bond paper, because there are only like two companies still making it and it's very expensive to have shipped. I know I should probably invest in a hole punch, but I'm really attached to the weight of actual animation paper – when I've animated with standard copy paper in the past, it just wasn't the same. [Animation bond is rugged, yet very smooth. It can take heavy, repeated erasing without any pilling, and also stands up to wet media like watercolor beautifully, with minimal page warping. The downside, as Mark says, is the price. –ed.]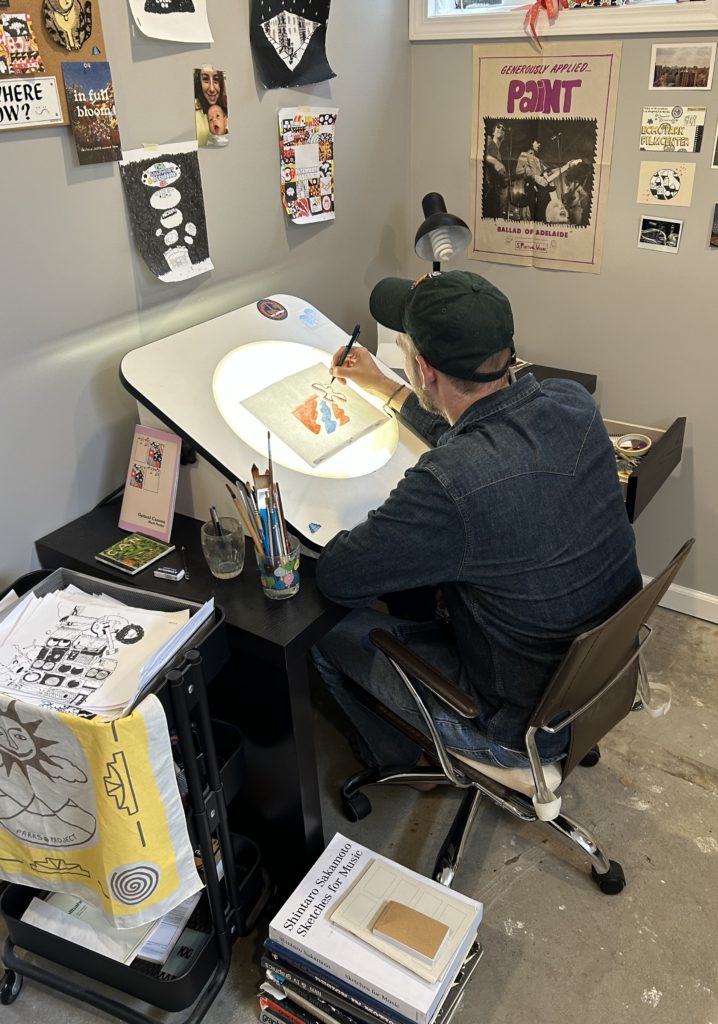 Can you recommend a recent short that really inspired you for DIY Animation Club readers to check out?
Last year an animator named Emily Halaka sent me her wonderful film called Organic Matter. It's just a beautiful, mesmerizing film of minimalist movement and sound, with an incredibly vibrant color scheme. [Organic Matter has yet to premiere online, but I'll link to the actual video once it's out! –ed.] And I should mention my pal Owen Summers who is making really incredible claymation. 
You can pre-order Extracted Frames here.
Also of interest to DIYAC readers — Mark's fantastic article for Aquarium Drunkard, "50 Years of Harry Nilsson's The Point".
DIY Animation Club co-founder Dave Merson Hess taught and developed animation curriculum for Aurora Picture Show's youth workshops, 2014-2018. He also started Rush Process, a Gulf Coast-based festival celebrating animators who work with physical media, which ran from 2015 to 2018. Dave is currently an MFA candidate in Experimental Animation at Calarts.