This week we're lucky to have a guest post from animator/filmmaker Phoebe Parsons! We shared her recent film, "Terror Fervor", as a one of our favorite examples of contemporary animation on cels. Houston friends will also remember seeing Phoebe's mixed media animation "Frankie and Mr. Boots Plug Out", at our 2017 screening series, DIY Animation Spotlight.
In this guest post, Phoebe shares her studio tour, which was featured a couple weeks back on Episode 2 of the live stream variety show, Mixed Gems TV. And she walks us through the novel cel animation process she used on "Terror Fervor". Thanks for being here, and take it away Phoebe! -Dave MH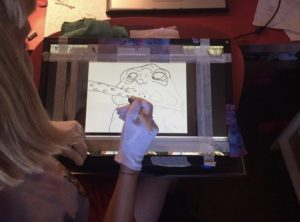 After mocking up a bunch of monster drawings, I drew the six minute animation front to back with pencil on plain printer paper. The whole thing is a study of movement and seeing how many cool morphing transitions I could come up with. Because cels are expensive, I bought in bulk those overhead transparency rolls we used to use in school, the kind that come on 50' long rolls.
I used a guillotine paper cutter to cut by hand each cel, getting about 40 out of each roll (as you get closer to the centre of the roll they become so tightly wound its super annoying to try and flatten them out). The up sides were the price, if you can even find them anymore they were only a couple bucks a roll and are nice and stiff/ I never had any issues with scratches or scoring or bend marks. The down side being most of them needed to have the corners weighted/ taped down during drawing and painting, and ya like I said, cutting them all by hand, then of course the hole punch as well…. I used a standard punch with a custom lever welded on the side so I could get the force to punch about 10 at once.
"For a light table I bought an old monitor off Craigslist and just put a blank image on it…"
Then because my at the time partner was a welder/ fabricator I had an awesome standard hole peg bar made from a lightweight metal. For a light table I bought an old monitor off Craigslist and just put a blank image on it (this was also super helpful for when I wanted to use reference photos or rotoscope parts of it). I just taped the peg bar right on there and used masking tape as guides.
Then onto painting! I rented out a studio space so I could have my drafting table and two folding tables out to paint, as well as two long Ikea shelving units to lay out the cels overnight. The tricky thing was to keep track of all the paints and colors needed for each part/ character since it changes so much and there's no scene numbers or anything. So I took a lot of pictures and had plastic bins for each character and section of their parts. Then I label with sharpie on each paint tube the character and part/ body part, some paint tubes were just covered in writing if they were used for multiple characters etc.
As far as paints go I would use any acrylics I could find. Though finding any of these ChromaColor paints (specifically for animators) was the jam, though that was years ago and I only ever found them in the sale bin. Runner up for me is the Liquitex soft body paints, really nice colors and good coverage, though not the cheapest. Also honestly sometimes the dollar store craft paints especially for reds and yellows weren't bad if you're looking for a pastel vibe, they all have a white base I guess for painting on wood so they cover nicely as opposed to other acrylics that might need multiple layers or a layer of white on the back, though they are the most likely to crack.
Thousands of paintings!!!!!!!!!!!!!!!!!!

Phoebe Parsons is a 2d animator and film maker from Vancouver, Canada. She went to Emily Carr University and graduated in 2010 with a Undergrad in Media Arts. Since then she has spent a decade working in costumes in the film industry. She works on commissioned animation works as well as personal projects, often grant funded. Phoebe's inspiration comes from classic 90's cartoons and the infinite possibilities of motion in animation.